We're putting modern AI into the hands of businesses – so they can do new, awesome things. Artificial intelligence is one of the biggest inventions ever made by humans. From a cell phone to a space shuttle, AI is helping humans to reach new heights of success. All the top-notch brands today are using artificial intelligence in management as it transforms their every effort into a successful conversion. 
Power GI is one of the most credible power platform development industries. It will expand your business with the help of artificial intelligence and the latest technologies by which your business can grow worldwide quickly. 
Benefits of artificial intelligence in management
1- No chance of human error
 No matter how good we are at our job, there is always a place for mistakes by humans, but in artificial intelligence, a machine is designed to do its every task with complete perfection. You can rely completely on artificial intelligence for some specific tasks.
2-Faster analysis of Data
 Whether it was the customer's last order or their feedback about any specific product or their queries, artificial intelligence quickly analyzes these points in a couple of seconds which can help us to know the correct behavior of the customer and his needs.
3-Cost effective
A few years back, there was a need for pilots and cameramen to take an aerial view of a place, but after the invention of drones, there was no need to give hard-earned money to anyone. Artificial intelligence is the new employee who doesn't need a salary and bonus. It can save much money and time and work more accurately than any human.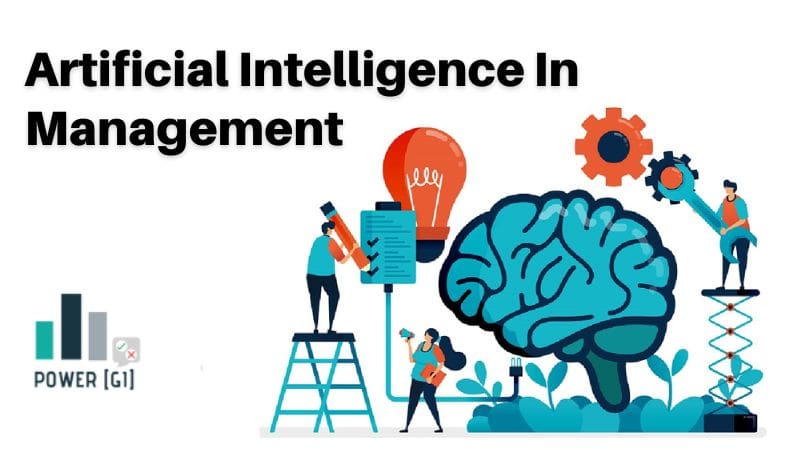 4- Faster Data analysis
Artificial intelligence will quickly read all the facts and figures from historical Data and, according to that, work for the optimum positive result. 
5- Content marketing strategies
People nowadays are very much interested in the content. Whether it is any product, content is the first thing that attracts the customer. Artificial intelligence uses different types of algorithms and creates the best content strategies.
6- Cybersecurity
 Cyberattack is a nightmare of the digital world; that's why nowadays, AI is used everywhere, from banks and malls to small shops, in all their systems to defend their systems from security breaches.
7-Can provide services 24/7
 One of the revolutionary changes in companies' management from AI is that they can do tasks 24/7, like giving customer service. It can respond to customers any time of day or night for some important FAQs.
Why choose Power GI?
Power GI empowers your business with digital and robotic process automation and boosts your business with the help of the Microsoft power platform. Power GI's every design and graphic is a unique masterpiece that catches your client's eye in the first go. Power GI uses the Microsoft power platform because it uses low-code tools that help your team to stay fast and far ahead of its competitors.
Conclusion
Management is the most important task for the company to keep the cash flowing. Artificial intelligence helps management through different software for greater analysis, customer support, keeping records, and acting accordingly for positive outcomes. Power GI is the all-in-one station for Digital transformation, intelligent automation, and process improvement, which gives you a strong helping hand in Digital transformation, intelligent automation, and process improvement by wise use of artificial intelligence in management. So what are you waiting for? Visit https://powergi.net/ now and kickstart your business to new heights of success.